PETALING JAYA, Malaysia, Feb 7, 2023 – (ACN Newswire) – Rinani Group Berhad, a financial consulting firm, is pleased to announce the acquisition of Kuala Lumpur City FC (KL City FC), Asia's second-best team in the Asian Football Confederation (AFC) Cup last year, champions of the 100-year old Piala Malaysia in 2021 for the fourth time in the club's history and winner last Saturday of the Federal Territory Minister's Trophy for the second time.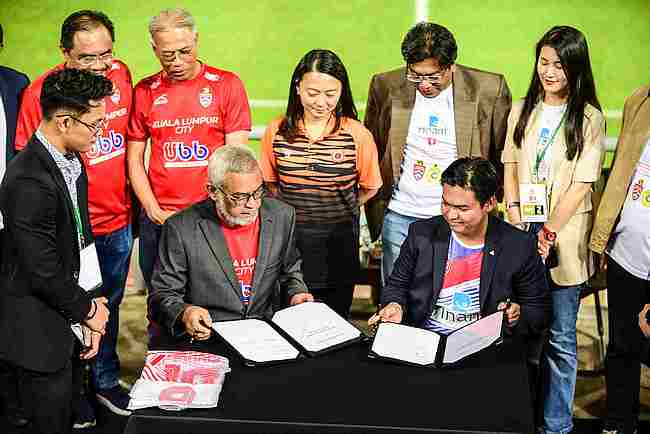 Kuala Lumpur Football Association (KLFA) president Khalid Abdul Samad (seated left) and Rinani director Azri Azerai (seated right) exchanging the agreement, witnessed by Youth and Sports Minister Hannah Yeoh (centre)
Rinani director Azri Azerai said, "We welcome KL City FC to the Rinani family, which consists of MGRC (Malaysian Genomics Resource Centre Berhad), Bintai Kinden Corporation Berhad, SCIB (Sarawak Consolidated Industries Berhad) and Reneuco Berhad who are joining us on this venture. We look forward to KL City FC continuing to be a trailblazer, with the support of our fans."
"KL City FC, now an elite club, will keep pushing boundaries and continue to be a professionally managed football club with "football decisions" being the core. We would also like to thank the Kuala Lumpur Football Association (KLFA) for the work that they have done."
"Our acquisition of KL City FC is part of the mandatory privatisation process that the Malaysian Football League is enforcing on all state-owned football clubs as football in the country transforms to a more professionally run sports that benefit all stakeholders."
KLFA president Khalid Abdul Samad said: "I welcome the news of Rinani taking a majority stake in KL City FC and becoming a joint partner together with KLFA of the club. We hope supporters of KL City FC will accept this change in ownership as private sector participation is vital to the future of Malaysian sports because entrepreneurs know best how to push for success and ensure viability."
The privatisation of KL City FC is also in line with the directives from FIFA, football's international governing body, and of the AFC, to have state-run football teams to be professionally ran, privately financed and independently owned.
KL City FC last Saturday hosted the match versus Perak which ended 3-0 to the home side at Kuala Lumpur Football Stadium in Bandar Tun Razak, Cheras. The match was broadcasted live on Astro Network.
Rinani Group Bhd: http://rinani.com.my/
Kuala Lumpur City FC: https://kualalumpurfootball.com/
Copyright 2023 ACN Newswire. All rights reserved. www.acnnewswire.com