Riyadh, Saudi Arabia, Feb 6, 2023 – (ACN Newswire via SEAPRWire.com) – A delegation of business leaders from the Hong Kong Special Administrative Region (HKSAR), led by the city's Chief Executive Mr John Lee and principal government officials, has arrived in Riyadh to explore collaboration opportunities with the business community of Saudi Arabia.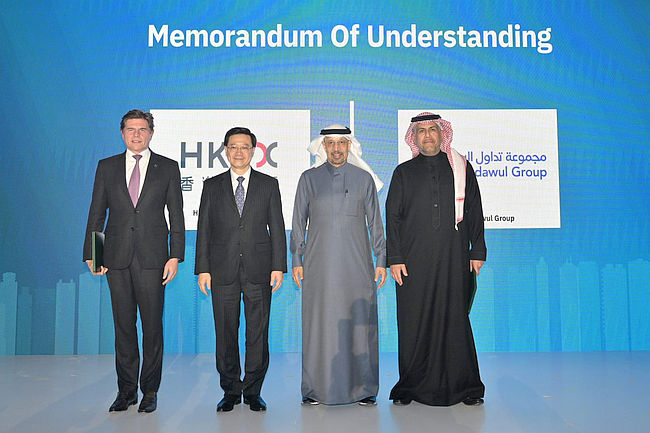 Several Memoranda of Understanding (MoU) were signed at the Investment Forum yesterday. These include Hong Kong Exchanges and Clearing Limited (HKEX) and Saudi Tadawul Group Holding Company.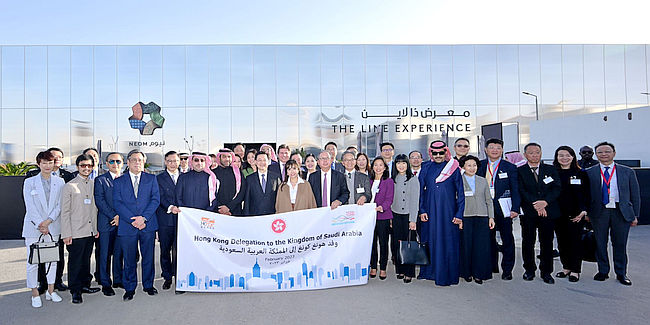 The delegation paid a visit to THE LINE Experience exhibition to learn about the innovative urban designs of the futuristic city NEOM.
Over the past two days, the delegation discussed with Saudi government and industry leaders how Hong Kong can facilitate the Kingdom's strategic development via its role as a global financial hub and China's international gateway. The 30-strong delegation includes senior executives from Hong Kong's financial institutions and regulator as well as major players in innovation and technology (I&T), sustainability and smart city solutions. Riyadh is the first of three stops on this week-long mission to the Middle East, organised by the Hong Kong Trade Development Council.
At a press conference followed by an Investment Forum and dinner officiated by the Saudi Minister of Investment H.E. Khalid Al-Falih and attended by some 300 Saudi Arabian guests yesterday, Chief Executive Mr John Lee, said, "Saudi Arabia is a strong economy of the Gulf region and a growing source of foreign direct investment. Driven by Vision 2030, the dynamic blueprint for the future, Saudi Arabia is destined to take its place as an economic powerhouse built on diversity, sustainability, and innovation and technology. Hong Kong has long been the Asia-Pacific region's multi-level bridge for foreign and Mainland Chinese businesses and investors. As integration with the Mainland continues to deepen, so too do opportunities for Hong Kong, and the economies and companies that work with Hong Kong."
Mr Lee was joined by Deputy Secretary of Justice Mr Horace Cheung, Secretary for Financial Services and Treasury Mr Christopher Hui, and Secretary for Commerce and Economic Development Mr Algernon Yau. Other business leaders from Hong Kong and Saudi Arabia also exchanged views at the investment forum yesterday.
At the forum, H.E. Khalid A Alfalih said: "This visit comes on the heels of numerous historic visits between our two countries starting with the visit of President Xi in 2016 following which the ties between the two countries deepened. Through this collaboration we aim at further developing various sectors whether it be asset management, private equity, wealth management – or in fintech, which saw an exponential growth of 79 per cent between 2021 and 2022."
He added:" Saudi Arabia has the largest regulated capital markets in the region, with the largest stock exchange in the MENA region. Due to evolving trends we are also making efforts to strengthen global supply chains and have launched a dedicated global supply chain resilience initiative. This will be a great opportunity for China and Hong Kong-based companies to use the KSA as a platform for adding value to products customised for the Middle East region and beyond."
Several Memoranda of Understanding (MoU) were signed at the Investment Forum. These include:
– Hong Kong Exchanges and Clearing Limited (HKEX) and Saudi Tadawul Group Holding Company
– SenseTime and King Abdullah Financial District (KAFD) (Letter of Intent)
– Hong Kong General Chamber of Commerce (HKGCC) and Riyadh Chamber
– Templewater Ltd, Bravo Transport Services Ltd and Wisdom Motors (Hong Kong) Ltd and Nesma Holding Ltd
– SenseTime and Sela Company (Letter of Intent)
– Hutchison and King Salman Energy Park (SPARK)
HKTDC Chairman Dr Peter K N Lam said, "Saudi Arabia has an important role to play in the global economy, similar to China. And as a global financial hub, China's international gateway and a commercial hub for the Belt and Road Initiative, Hong Kong can facilitate opportunities to help drive development initiatives around the world. We are pleased to organise this delegation to come and discuss collaboration opportunities, not only in our traditional sectors of finance and trade, but also in new areas in tech and innovation, smart city and sustainability solutions. Creating opportunities has been the work of the HKTDC for over 55 years, and I am hopeful that we can continue to help Hong Kong businesses play a part in the exciting growth of Saudi Arabia and the regional overall."
The delegation has met with key enterprises in Riyadh to exchange ideas and learn more about Saudi Arabia's Vision 2030. They visited major institutions, such as the Saudi Stock Exchange and the NEOM exhibition. This evening, the delegation will travel to Abu Dhabi and then onwards to Dubai, to meet with senior government and business leaders of the United Arab Emirates.
As a two-way platform between China and the world and as one of the world's top financial centres, Hong Kong has been supporting businesses and investors worldwide to tap into the vast China and Asia market and has been playing a major role in the global financial system with its unique connectivity to China's market. As part of China, but operating under an international system, Hong Kong provides special access to and from the mainland in the flow of capital, goods, technology and people, as defined in the country's national 14th Five-Year plan.
Hong Kong is also a commercial hub for the Belt and Road Initiative, a global development plan initiated by China, and part of the Guangdong-Hong Kong-Macao Greater Bay Area (GBA) – an area in Southern China earmarked by the Chinese government to become a powerhouse of capital, I&T and cultural exchange driving the country's development. With its common law system, low tax regime, advanced infrastructure and connectivity and as a its world-renowned global trade and business hub, Hong Kong is well-placed to support businesses from all over the world to invest and grow.
Find out more about Hong Kong:
– Hong Kong: general facts https://tinyurl.com/Asias-world-city
– Hong Kong as a global financial centre https://tinyurl.com/Financial-Centre
– Hong Kong's tech and innovation https://tinyurl.com/Tech-Innovation
– Hong Kong as the commercial hub for the Belt and Road Initiative https://tinyurl.com/Belt-and-Road
– Hong Kong as part of the Guangdong-Hong Kong-Macao Greater Bay Area https://tinyurl.com/Greater-Bay-Area
About HKTDC
The Hong Kong Trade Development Council (HKTDC) is a statutory body established in 1966 to promote, assist and develop Hong Kong's trade. With 50 offices globally, including 13 in Mainland China, the HKTDC promotes Hong Kong as a two-way global investment and business hub. The HKTDC organises international exhibitions, conferences and business missions to create business opportunities for companies, small and medium-sized enterprises (SMEs), in the mainland and international markets. Please visit: www.hktdc.com/aboutus. Follow us on Twitter @hktdc and LinkedIn
Orient Planet Group:
Hassane Ghanem, Tel: +966 598606946, Email: hassane.ghanem@orientplanet.com
HKTDC:
Niveen Faris, Tel: +966 11 4169713, Email: niveen.faris@hktdc.org
Sunny Ng, Tel: +852 2584 4357, Email: sunny.sl.ng@hktdc.org
Sam Ho, Tel: +852 2584 4569, Email: sam.sy.ho@hktdc.org
Copyright 2023 ACN Newswire. All rights reserved. (via SEAPRWire)