HONG KONG, Mar 5, 2023 – (ACN Newswire) – Following Hong Kong's lifting of the mandatory mask mandate and full resumption of travel, business people from around the world flocked to the city's first major trade fair. Organised by the Hong Kong Trade Development Council (HKTDC), the 39th HKTDC Hong Kong International Jewellery Show and the 9th HKTDC Hong Kong International Diamond, Gem & Pearl Show gathered over 2,500 exhibitors and successfully concluded today. The five-day fairs attracted over 60,000 buyers from 130 countries and regions, with significant increase in participation from Mainland China and the Asia region. In an on-site survey with around 700 exhibitors and buyers, about 60% exhibitors and buyers expected their business to return to pre-pandemic levels in one year, reflecting a positive outlook for the jewellery sector.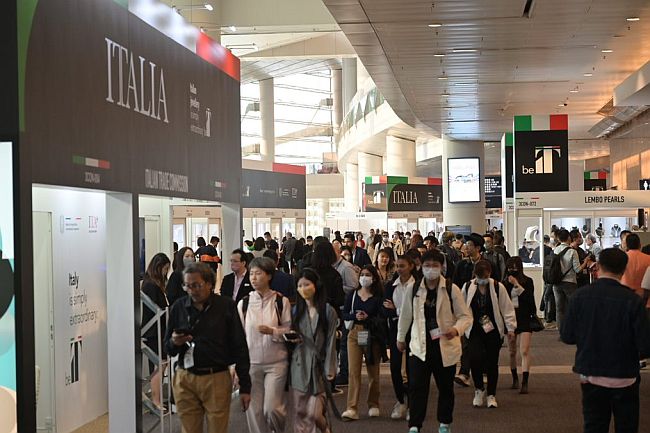 Organised by the Hong Kong Trade Development Council (HKTDC), the 39th HKTDC Hong Kong International Jewellery Show and 9th HKTDC Hong Kong International Diamond, Gem & Pearl Show concluded successfully.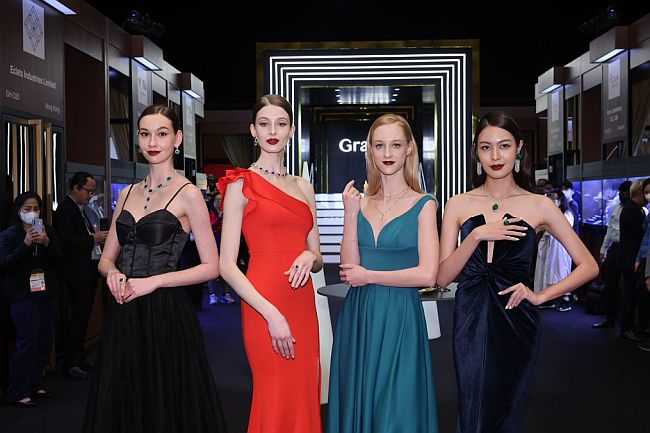 The two jewellery shows featured jewellery parades that showcased elegant and stylish pieces.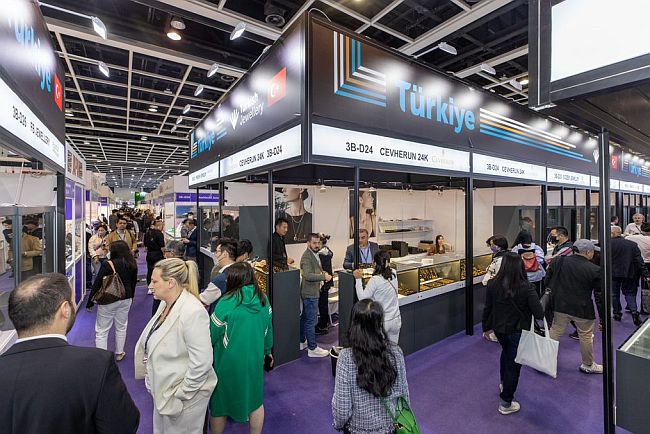 A total of 20 regional pavilions were set up at the twin shows this year, including Mainland China, Italy, Turkiye, Japan and more, showcasing artisan jewellery from around the world.
Sophia Chong, Deputy Executive Director of the HKTDC, said: "We are delighted to see the overwhelming support from industry buyers and exhibitors for the twin shows. The vibrant atmosphere, busy traffic and packed booths not only reflected the global jewellery market's pent-up demand after three years and strong buying power, but also reaffirmed Hong Kong's position as the world's premier trade fair capital in Asia which brings the world together to do business and to build relationships.
"Looking ahead, we have many more trade events lined up for different sectors throughout the rest of the year, and with the policy support from the Hong Kong SAR Government, we are confident that trade fairs and conferences will help to re-energise the city's economic recovery," Ms Chong added.
Under HKTDC's EXHIBITION+ hybrid model, global jewellers and traders can connect online for another week beyond the physical fair days until 12 March via the Click2Match smart business matching platform. Over 1,800 meetings between exhibitors and buyers have been scheduled.
Positive outlook with 60% exhibitors and buyers predicting uptick in sales this year
In a survey conducted on-site by the HKTDC, some key findings include:
Market and industry outlook:
– Around 60% of exhibitors (62%) and buyers (61%) expect their business growth to return to pre-pandemic levels in a year.
– More than 60% of respondents foresee that overall sales will pick up in 2023 and 74% of buyers anticipate a rise in sourcing cost.
– Factors that are expected to bring opportunities for the industry in 2023 include: the recovering purchasing power from customers (57%), rising demand from emerging markets (34%) and the potential to expand business in the Guangdong-Hong Kong-Macao Greater Bay Area (GBA) (13%).
– Anticipation of the growth prospects of jewellery products in the target sales market are satisfactory in the next two years: Mainland China (78%), Hong Kong (71%), ASEAN countries (64%), Northern & Western Europe (58%), North America (55%)
Challenges: fluctuations of the global economy (51%) and impact of inflation (46%) as well as fluctuating exchange rate (35%) were seen as key challenges.
Product trends:
– Karat white gold and Karat yellow gold are expected to be the most popular metal product in 2023;
– Diamond will be the most in-demand gemstone;
– Social media, e-commerce and big data will have the greatest impact on the jewellery industry in the next three years.
HK$100 million sales recorded by some exhibitors
In addition to the high volume of buyers and exhibitors, robust business results were seen across the shows. Exhibitor Bruno Scarselli and Davide Scarselli, Co-owners of Scarselli Diamonds Inc, from the United States shared: "The twin shows are making a strong comeback this year. After the pandemic, the mood is positive and buyers are willing to buy. We have met a lot of buyers from Europe, Japan, Korea, Mainland China and the Middle East who are very interested in our blue and pink diamonds. Twelve buyers, including six from Mainland China, already placed on-site orders amounting to US$11-12 million for our fancy colour diamonds."
Hong Kong exhibitor Imran Khan, Director of Sparkle Gems Global Inc, said: "We first joined the HKTDC show 12 years ago because it is the best platform for suppliers from all over the world to promote their raw materials to international buyers. We are showcasing emeralds and tanzanites, with prices ranging from US$50 to US$10,000. We met 10 buyers from Europe, Mainland China and the US who placed on-site orders for our emeralds worth a total of US$1 million on the first day. We expect our on-site orders we receive at the show to amount to US$3 million."
Zhuji City from Zhejiang Province, Mainland China made their debut at the show. Chen Wenjin, Deputy Mayor of Zhuji City said: "A total of 49 Zhuji companies have gathered at our pavilion and we also organised a delegation from 300 companies to source at the shows. The show is an excellent platform for our pearl companies to connect with overseas buyers. We expect total sales of over RMB100 million."
One of the exhibitors, Tota Koyama, Chairman of the Japan Jewellery Association said: "Now that travel restrictions have been removed, Japanese jewellery companies are very happy to come to Hong Kong. We've brought 86 jewellery companies from Japan to participate in the Jewellery Show, and 69 companies in the pearl business to join the Diamond, Gem & Pearl Show. The response from buyers is better than expected and we've recorded very good sales. The purchasing interest is particularly strong from Mainland Chinese buyers."
A jewellery buyer, David Abraha from the United States said: "The Hong Kong International Diamond, Gem & Pearl provides an important platform for me to meet suppliers from worldwide at one place. I always come here to connect with new suppliers. At this year's show, I have found suppliers of loose diamonds from Belgium, Israel and Hong Kong. My budget is up to US$5 million."
Qian Yiting, Chief Operating Officer of Wuxi Yinlou from Mainland China said: "The show has staged a strong comeback this year with the relaxation of pandemic policies. I have visited jewellery fairs in Japan and Korea, but the Hong Kong International Jewellery Show is definitely the best one showcasing an amazing mix of jewellery from all over the world. I have already met with six exhibitors from Hong Kong, Japan, Australia and Thailand through the Click2Match business matching service."
More major fairs for technology and lifestyle sectors
On the heels of these two exhibitions, the HKTDC will organise a series of trade fairs in April, including InnoEx, Hong Kong Electronics Fair (Spring Edition) and Hong Kong International Lighting Fair (Spring Edition) on 12-15 April; Hong Kong Gifts & Premium Fair, Fashion InStyle, Home InStyle and more on 19-22 April. These events will provide buyers with a unique one-stop souring experience and help exhibitors expand their market reach, while boosting Hong Kong's economy.
Websites:
– Hong Kong International Jewellery Show: https://www.hktdc.com/event/hkjewellery/en
– Hong Kong International Diamond, Gem & Pearl Show: https://www.hktdc.com/event/hkdgp/en
– HKTDC Media Room: https://mediaroom.hktdc.com/en
– Photo download: https://bit.ly/41KMt3v
About HKTDC
The Hong Kong Trade Development Council (HKTDC) is a statutory body established in 1966 to promote, assist and develop Hong Kong's trade. With 50 offices globally, including 13 in Mainland China, the HKTDC promotes Hong Kong as a two-way global investment and business hub. The HKTDC organises international exhibitions, conferences and business missions to create business opportunities for companies, particularly small and medium-sized enterprises (SMEs), in the mainland and international markets. The HKTDC also provides up-to-date market insights and product information via research reports and digital news channels. For more information, please visit: www.hktdc.com/aboutus. Follow us on Twitter @hktdc and LinkedIn.
Media enquiries
Please contact the HKTDC's Communications & Public Affairs Department:
Janet Chan, Tel: +852 2584 4369, Email: janet.ch.chan@hktdc.org
Frankie Leung, Tel: +852 2584 4298, Email: frankie.cy.leung@hktdc.org
Copyright 2023 ACN Newswire. All rights reserved. www.acnnewswire.com